A local Portland tradition and a wonderful time to build community during the holiday season.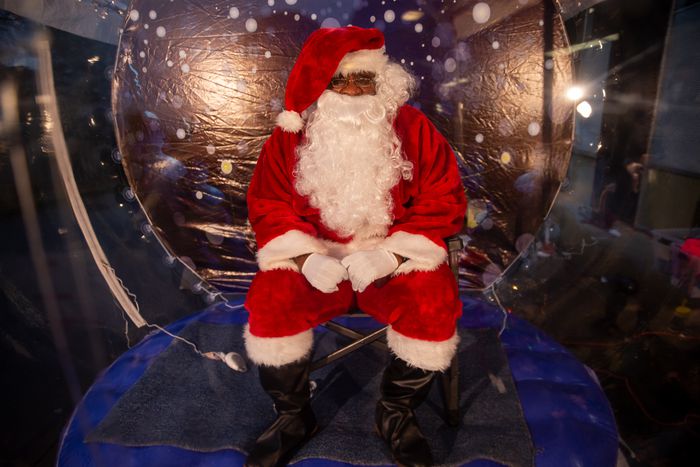 Upcoming Black Santa Events
December 4th
Boise Idaho
December 5th
Twin falls Idaho
December 10th
Sunnyside - Groves
3520 Yamhill st Portland 97214
December 11th
Black Santa Parade SE PDX
December 12th
Sunnyside - Groves
December 17th
Black parents Initiative - Portland
December 18th
Bend
December 19th
Acts on Stage
Seattle - 10806 12th Ave Seattle 98146
December 22nd
PDX - Lilac Meadows
7740 SE Powell Portland 97206
December 23rd
PDX - Aloha UMC
2270 SW 198th ave Beaverton OR
Introducing: Black Santa Dark Roast Coffee
Leroy Barber, Portland's Black Santa, has teamed up with us to create the Black Santa Dark Roast, a chocolatey, rich, and smooth Honduran coffee!
These coffee beans are ideal for espresso drinks or for the dark coffee enthusiasts among us. We import them directly from Coffeerama Farms in Honduras, operated by our friend Erlin Barillas. The coffee features rich, bold, notes of chocolate with some roast character that make for an excellent black cup of coffee or shine through in milk-based drinks.
We import ethically traded coffee so you can enjoy your cup knowing the farmers and harvesters received fair pay.
We expect initial orders will ship on January 14th.
For press coverage and requests for interviews please contact us.
Previous Year Black Santa Events
Wednesday, December 16
12:00pm – 3:00pm
Black Santa PDX is coming to Eugene! This is a free, family-friendly, all-ages welcome opportunity. Come and meet Black Santa inside his snow globe! Santa's helpers will be assisting with picture-taking. Be sure to register on EventBrite to reserve your time with Santa!
Soko Coffee will be on-site offering free steamers to kids. Reserve your spot here today!
Black Santa Wonderland - PDX
Saturday December 19 & Sunday December 20
3:00pm - 9:00pm
Santa will be outdoors inside a giant snow globe in front of a Christmas backdrop, where families can derive up and take their own family photos outside the globe.
Online Reservations are required for this event
Thursday, December 10
Friday, December 11
4:00pm - 7:00pm
Enjoy a safe and family Friendly visit to the beautifully decorated Acts on Stage living room where you can et your picture taken with Santa in a snow globe. Only 3 visits per hour so reserve your spot early!
East Portland Neighborhood Parade
Saturday December 12
1:45pm - 3:00pm
Santa will be making his way through East Portland once neighborhood at a time. Check out the parade map to view his route.